When society shamelessly perpetuates the idea that it's
socially acceptable and a staple of comedy to slap a man
or
kick him in the crotch
to sell a product and generate ratings, and the same society tells you women demand and expect
"equality"
…. you've got a very big problem on your hands. This message seeps into the minds of impressionable consumers and is thoughtlessly lapped up with glee – until a man responds to it.
Jezebel (owned by Gawker media) have some of the worst, overfed writers in history who enjoy lolz-ing at the concept of beating their boyfriends, and this is in a personal relationship where you're only permitted to be loving and kind. Just because women line up at prisons in droves to propose marriage and conjugal visits to criminals and violent men, doesn't mean men are into the same nonsense.
Thankfully, big name advertisers like Mercedes and BMW are pulling away as result of the recent #gamergate nonsense, potentially costing them millions in lost revenue, and rightfully so. Men have had enough of this s~~~, and the above example is just one.
Violence is unacceptable. Just like chivalry is unacceptable.
What does it take to teach them violence is not acceptable? Violence? Doesn't that defeat the purpose? Or is violence a requirement to defeat the people who think violence is acceptable. When a woman initiates the social rule that slapping people who accidentally bump into her is permissible, she should expect others to follow her social convention. She established a new rule and it would now be rude not to return the favor. However, the same women who watch Gone With The Wind and KFC commercials too many times (while thinking they are all Scarlett O'Hara and can waltz through life with zero consequence) are oddly never prepared for Karma to even up that score.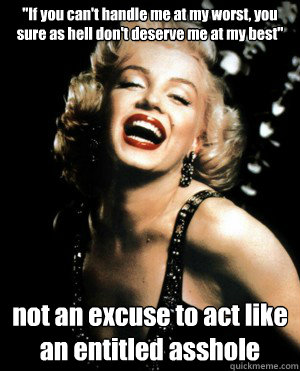 "If you can't handle me at my worst, you sure as hell don't deserve me at my best."
– Marilyn Monroe
You've got millions of clueless adult women on dating sites, who are also bad writers and have nothing interesting to say about themselves. So they artificially inflate their desirability, quote Marilyn Monroe and think this must somehow attract a man. As if presenting herself at her worst is how to been seen at her best. This genius deduction comes from from the kind Jezebels who – at their very "best" – wouldn't even resemble Marylin Monroe at her very worst.
Princess Cupcake believes a man should be interested in first slaying her dragon (read: inner bitch) for the opportunity to climb to the highest room in the tallest tower just to get near her. But a MGHOW would be more rewarded to keep her fire-breathing dragon as a pet, rearrange the furniture, kiss her and leave. Eventually, she'll snap out of it. We she finally wakes after her expiration date, she can log on to another dating website and gripe about having zero prospects for anything more than a shag. Rinse and repeat.
Ask her what she thinks, and the same girl wants to be "treated like a lady". But there is only one way to treat a lady: according to her own behavior. Any woman who has a problem with that is only trying to get away with s~~~ty, second-class and violent behavior.
Going Your Own Way is a pretty good option when the alternative is to be with a shrew.
Handle you at your WORST? What the hell for?
Men are not your personal Petruchio, ladies. Shakespeare. Look it up.